Another Busy Week
Its hard to believe 2017 is half over. We continue to be very busy, with 21 new admissions this past week, including 11 raptors. For a week, we were fortunate to have the help of three interns. On Tuesday we bid a fond farewell to Julia as she flew home to New Jersey. She will continue to be busy, working at a veterinary hospital and completion applications to veterinary school. We wish her the very best! Below, interns Shannon, Julia and Mable enjoy a brief respite from the heat next door in the "kiddie pool." Shannon and Mable will be joined by Parks, a Whitman College student, who will be working weekends at BMW for the remainder of the summer.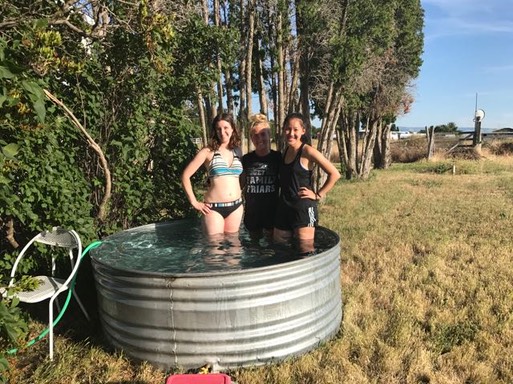 Two More Swainson's Hawk Nestlings
Volunteer, and Board Member, Tara, made a 200 mile round trip to transport two Swainson's Hawk nestlings from Ontario to La Grande where she met Bob and I. One of the hawks had a badly broken wing that could not be repaired. The other will join two more Swainson's and will be placed in a hack box in preparation for release. Tara had already made a trip from her home in Baker City to Pendleton (180 mile round trip) earlier in the week to deliver donated supplies. All BMW volunteers regularly go above and beyond the call of duty to help our native wildlife. Thank you to you all!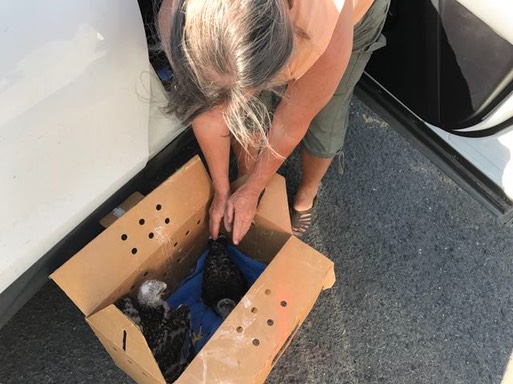 Electrocuted Red-tailed Hawk
A Red-tailed Hawk found near Baker City appears to have touched both wingtips to power lines and been electrocuted. He is not very happy about being at BMW. Hopefully he will be able to recover from his injuries.