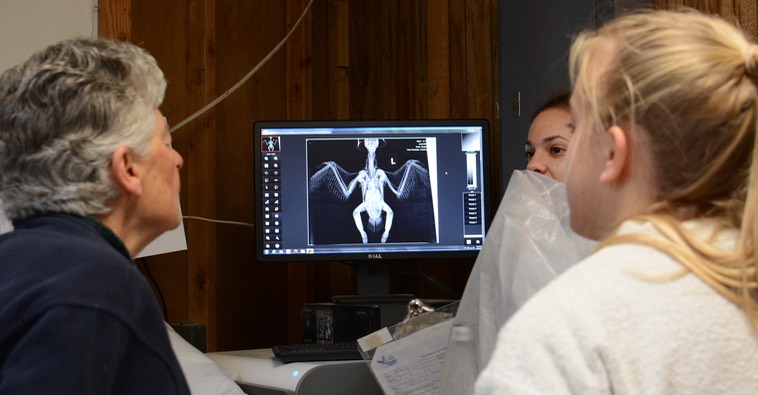 Our internship offers the opportunity to work hands-on with local wildlife and to learn the basics of wildlife rehabilitation.


Program Background
Established in 2006, Blue Mountain Wildlife's wildlife rehabilitation internship program has allowed over 50 young adults to gain hands-on experience working with wildlife.
An internship at Blue Mountain Wildlife provides the opportunity to gain hands on experience working with many wildlife species, primarily raptors, and to learn skills such as handling techniques, diets, food preparation, and feeding methods and to assist experienced wildlife rehabilitators with treatment procedures. The internship is intended to provide on-the-job training in basic wildlife rehabilitation skills.
It is hoped that a working internship will help interns examine wildlife career opportunities. In return, we expect to work with enthusiastic, mature, hard working people who will become an integral part of the working staff and volunteers at the Center. Our hope is that interns will learn basic wildlife rehabilitation skills and techniques and practice what they have learned, for the benefit both of the intern and of BMW.


Requirements and Qualifications

A strong interest in wildlife

Enthusiasm and willingness to learn

A background in biology, wildlife management, veterinary medicine, veterinary technician, or environmental education may be helpful, though there is no educational requirement. (Interest in wildlife, enthusiasm, and willingness to learn are far more important to us!)

18 years of age or older
Details

Length: Internships are 8 weeks long.
Timing: Internships are offered all year, though are most competitive during the summer. During "baby season," from about March through August, we are particularly busy.
Hours: Working hours vary, but tend to be from dawn until dusk during summer months. Interns are expected to work 6-7 days a week, depending on how busy we are.
Accommodations: Interns stay in a 32-foot, on-site travel trailer. There is a bedroom, bathroom, kitchen, and living room. The trailer also has hot water, heating, and air conditioning. BMW provides kitchenware, bedding and towels, and laundry facilities. The trailer will be shared by a maximum of four interns. The property, housing both the center and the trailer, is a 10-minute drive from Safeway and Walmart.
Transportation:

Bringing a car can be convenient, but is not necessary. If you do not have a car, BMW will pick you up from the airport (Pendleton, Tri-Cities, or Walla Walla) and drive you into town for groceries.

Health and Insurance: 

All applicants must answer the questions concerning health on the application form, and those who are selected for an internship must provide proof of an up-to-date tetanus vaccination. While working, interns will be covered by Workman's Compensation Insurance.

Compensation: BMW is a nonprofit organization with a limited budget. Therefore, the internships are unpaid positions, but a small weekly stipend will be provided to help cover costs of food and transportation.
A Day in the Life
Each day is different, so the following are just a few of the responsibilities and opportunities you will gain from this internship:
Assisting with intake protocol, including related to anesthesia, radiology, and hematology

Practicing captive animal management, including capture & restraint, medication, and fluid administration

Learning rearing of native species under the supervision of an experienced and permitted rehabilitator

Releasing animals back to their native habitats

Preparing food, which involves gutting rats and quails

Cleaning cages and enclosures

Sweeping floors, doing dishes, and doing laundry
Looking for Something in Particular?
While the above outlines our typical internship, we are also open to working with you on internships of other sorts. For example, if you go to school locally, you may be able to intern on weekends over the course of a semester. Or, if you are interested in research or a in particular type of wildlife (i.e., raptors, songbirds, small mammals), specify this on your application so that we may be able to focus you. If you are more interested in environmental education, for example, we may also be able to work to make an internship that includes both rehab and education opportunities. Finally, some colleges and universities allow internships to count toward course credit. If you wish to complete the internship for course credit, please indicate this on your application.
Program Policies
When you apply to the Blue Mountain Wildlife internship program, we take it that you are accepting these policies.
T

o ensure that animals have the best possible chance for release, and for survival when returned to their natural habitat, we want to minimize the stress of captivity, and keep the animals wild. Some behavior that is suitable when caring for domestic animals is inappropriate when dealing with wildlife. This means we minimize human contact (both the sight and sound of humans) when caring for wild patients. Minimal human contact is particularly critical for young wildlife.
Much of the work at a wildlife rehabilitation center is not glamorous, but every job is important. All staff, volunteers and interns are expected to carry out a wide range of tasks including food preparation, cage cleaning, laundry and facilities maintenance.
Working in a wildlife rehabilitation center is physically demanding. Staff and interns work long hours and are on their feet most of the time, working indoors and outdoors in all types of weather.
Our goal is to treat all orphaned, injured or sick native wildlife brought to the Center and return them to the wild. Unfortunately this is not always possible. Approximately half of the wildlife admitted are too sick or badly injured to be treated and released. In these cases, euthanasia is an alternative that is considered. 

The decision to euthanize an animal is never made casually. We consider euthanasia to be one of the alternatives available to relieve the pain and suffering in sick or injured animals. Euthanasia is a situation interns will encounter, and should come to terms with.

Blue Mountain Wildlife is a drug-free facility, including in the travel trailer.
How to Apply
Our application consists of three parts:
Application, available below in Word and PDF formats
Essay, outlined in the application 

Resume
Send all three parts to Lynn Tompkins, Executive Director, at lynn@bluemountainwildlife.org at least one month in advance of when you hope to start your internship. Applications for summer internships are due earlier, usually around March 1.
Internships are competitive and will be filled as soon as qualified applicants are accepted.
If you have further questions regarding an internship position at Blue Mountain Wildlife, please contact Lynn Tompkins, Executive Director, at 541-278-0215 or lynn@bluemountainwildlife.org.
Thank you for your interest, and we look forward to receiving your application.
Click here for the application in PDF format.