Our Thanks To The Kinsman Foundation
We received notice this week that The Kinsman Foundation has awarded Blue Mountain Wildlife a $12,000 grant for 2018 operating expenses. We are very grateful to the foundation for their on-going, generous support of BMW and wildlife rehabilitation throughout Oregon. 
Thank You Wildlife Support Charitable Trust
Our thanks is also due the Wildlife Support Charitable Trust whom I neglected to recognize in August when  they delivered  a $5,000 grant for 2017 operating expenses. The Trust is also a long-time supporter of BMW and wildlife rehab in Oregon and Washington. It was a unique opportunity and privilege to visit with trustees  Mark and Linda Phillips.
Golden Eagle 17-589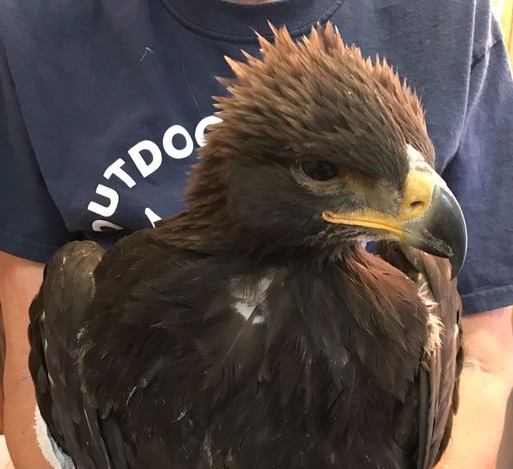 It has been a rough two weeks for Golden Eagles.  This juvenile male was feeding on carrion when he was struck by a train. The train severed his right leg below the knee and crushed his right wrist. There was nothing we could do but euthanize him.
Update On Golden Eagle 17-571
After doing some research, it is likely that the large mass in the adult Golden Eagle admitted last week consisted of urates from her kidneys. What would cause such over production is still a mystery.
Great Horned Owl 17-584
An injured Great Horned Owl was found near Pomeroy, WA. It is not known how he fractured his scapula, perhaps a collision with a power line. 
Update On Great Horned Owl 17-565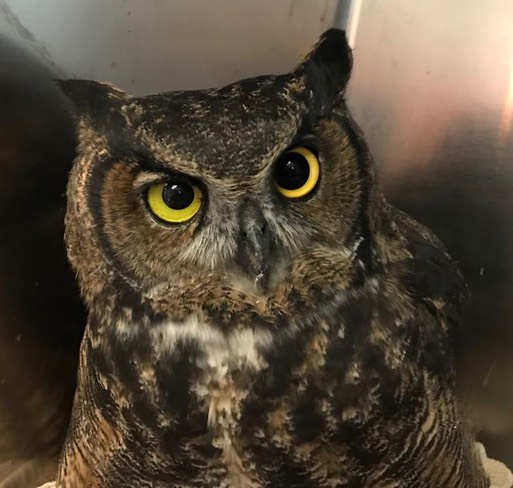 The owl is recovering well from her head injury. She is no longer blind, the pressure in her right eye is returning to normal and the green eye stain has cleared from her iris. She is ready to move outside to a flight pen.