Mild Winter Weather Results In Fewer Injured Birds
I'm going to credit our relatively mild winter for the decrease in admissions when compared to last year: 31 birds by January 21, 2017, and just 17 birds by January 21, 2018. That includes the 6 birds admitted this past week: 5 raptors and a Dark-eyed Junco. 
The Junco has an injured right shoulder and broken left leg. Even with the shoulder and leg immobilized the Junco is eating and more active each day. A Great Horned Owl had multiple fractures in his left wing that were non-repairable. A Sharp-shinned Hawk flew into a window at the Hermiston Wal-Mart. He died while being transported to Pendleton.
Red-tailed Hawk 18-013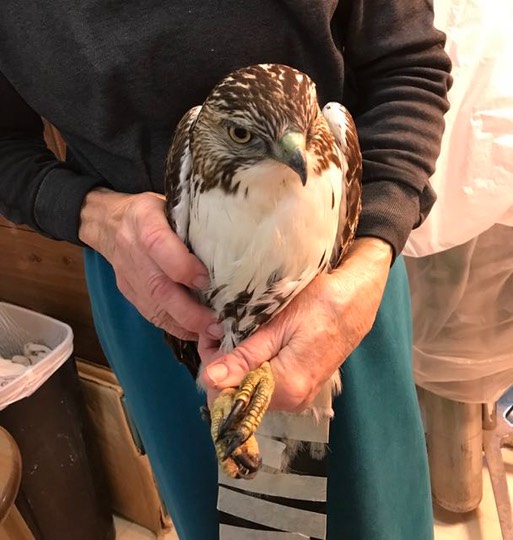 We are not sure what happened to this young Red-tailed Hawk, but he appears to have a vision deficit in his right eye. Hopefully with supportive care and tincture of time his vision will return normal.
Bald Eagle 18-016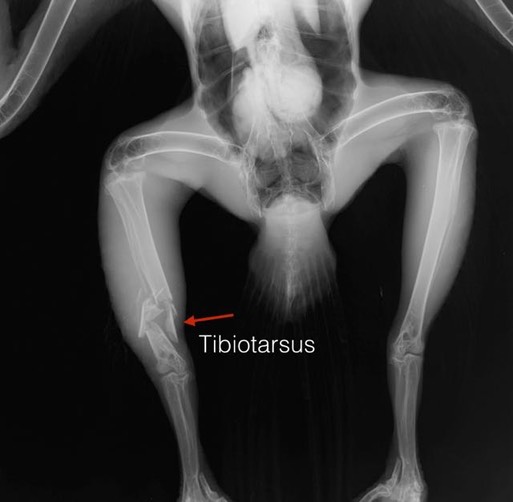 Although overall intakes are down, we have a record three Bald Eagles currently in the clinic. Eagle number three arrived Friday evening from Enterprise, OR. It is likely he crashed into a power line, breaking his right leg and injuring his right elbow. We have immobilized the leg with a splint and hope it can be surgically repaired this week.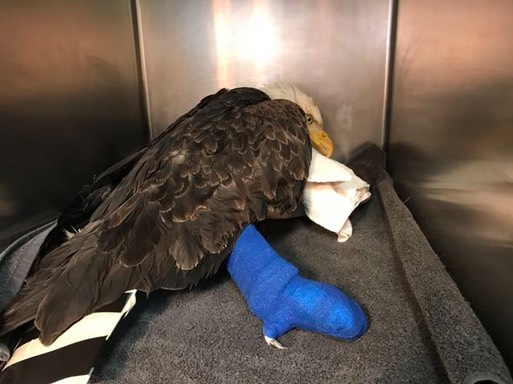 Welcome Effie and Caroline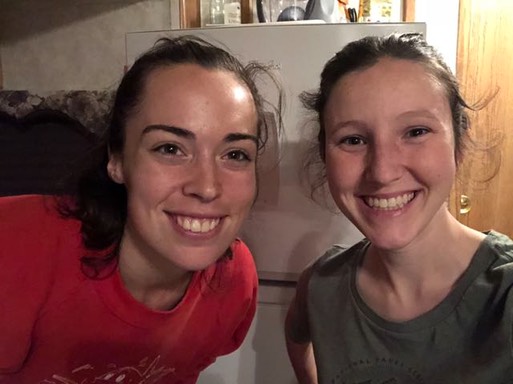 We welcomed new intern Effie this week. She traveled all the way from Atlanta Georgia to spend 8 weeks learning about wildlife rehabilitation. Recently, it has been colder in Atlanta than Pendleton!
Caroline Ebinger, BMW's Director of Development, is visiting from her home in Palo Alto. She will be working in Pendleton for the next week.   
Western Screech Owl 18-017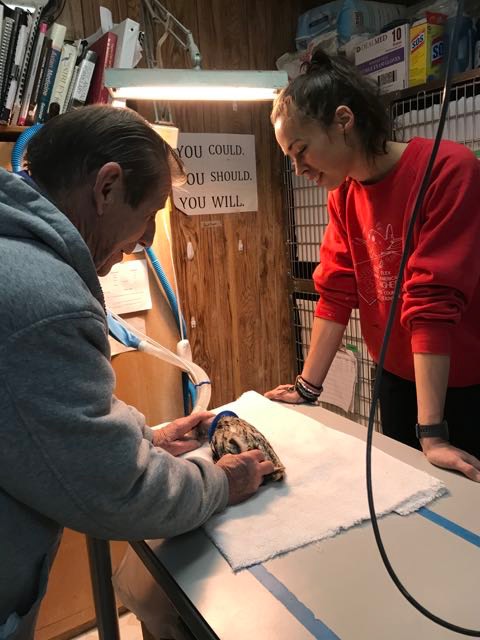 The last admission of the week was a Western Screech Owl who  flew into a window. His main problem seems to be a headache. Hopefully, after a few days of  supportive care and tincture of time this guy will be releasable. Above, Bob and Effie anesthetize the owl prior to a physical exam.
Update on Bald Eagle 18-006
After the second course of chelation, the eagle's blood lead level has dropped from its high of 813 micrograms/deciliter on admission, to 19.3 mcg/dl. Even though that is technically below the toxic level, she remains critically ill. We have only been able to remove the lead in her blood, not the lead that may be deposited in other tissues. She still has no interest in food and can only tolerate a liquid diet, regurgitating any solid food. We are continuing supportive care and will administer one more course of chelation.
Three Saw-whets in a Christmas Tree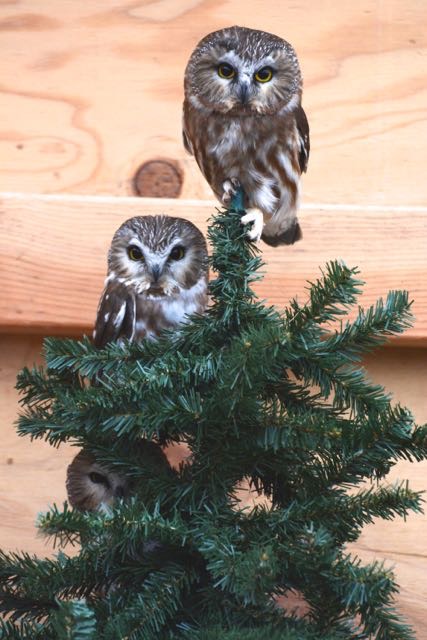 The current residents in BMW's newest flight pen love the artificial Christmas trees placed in the pen.