Welcome to the Brand New Adoption Center at Blue Mountain Wildlife!
Here, you can symbolically adopt one of our birds, supporting Blue Mountain Wildlife while learning about your favorite BMW birds. Adoption packets also make great gifts — a gift that gives back for the holiday season. Check out the options directly below (Steps 1 and 2), fill out the form below the options to place your adoption (Step 3), and then donate through PayPal at the bottom of the page (Step 4). Thanks for your support! Let us know if you have any questions.
STEP 1 of 4: CHOOSE A BIRD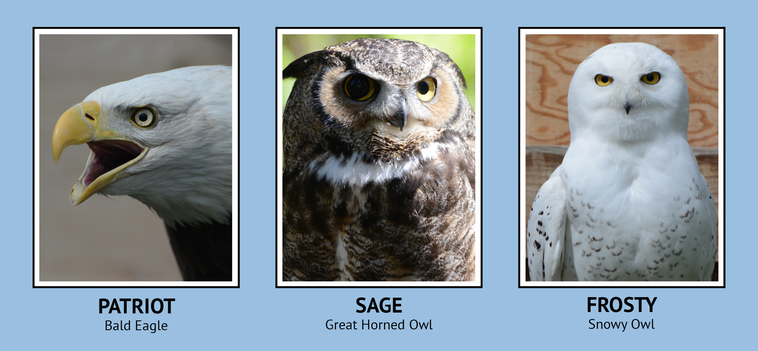 STEP 2 of 4: CHOOSE A LEVEL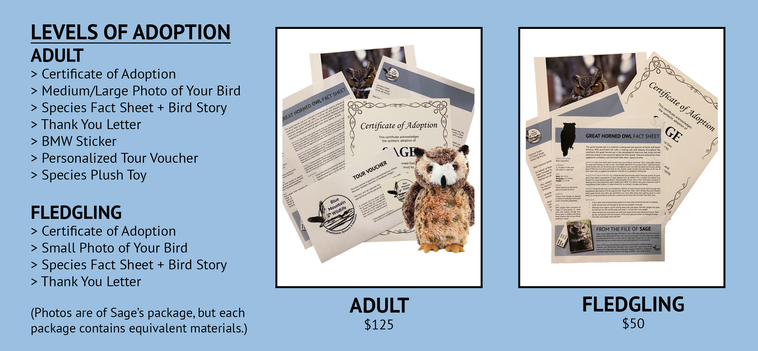 STEP 3 of 4: FILL OUT THE ADOPTION FORM
STEP 4 of 4: DONATE VIA PAYPAL
Choose your amount based on your adoption level ($125 for adult, $50 for fledgling). We ask that if you are receiving materials in the mail, particularly a plush toy, that you would consider adding $5 to your donation to help us cover shipping costs. Thanks again for your adoption!
You do not need a PayPal account to donate via this method.