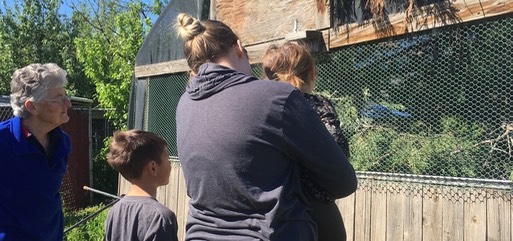 Facility tours are an important part of our education program, allowing anyone and everyone to get an idea of what we, at BMW, do. On our tour, you will meet many of our resident birds, including those used for education programs.
Tour Details
Tour reservations must be made 24 hours or more in advance.

Tours can be made for any time, assuming our education team is available.

Tours last 30-45 minutes, depending on the age of the audience.

It can be a bit muddy, so wear casual clothes and shoes.

The birds are easily disturbed, so make sure your group can be quiet.

Tours are free, though we appreciate a donation for our time and to show your support for our mission.
Call us now to book your Blue Mountain Wildlife tour!
+1(541)278.0215
71046 Appaloosa Lane,
Pendleton, Oregon 97801
Make a Trip Out of BMW
Want to visit BMW but don't live nearby? Check out other things to do in the region to make a full trip.