Northern Goshawk 18-022
Volunteer Valerie responded to a call regarding an injured hawk in West Richland. She was expecting it to be a Red-tailed Hawk or possibly a Cooper's Hawk so was surprised to find an adult Northern Goshawk.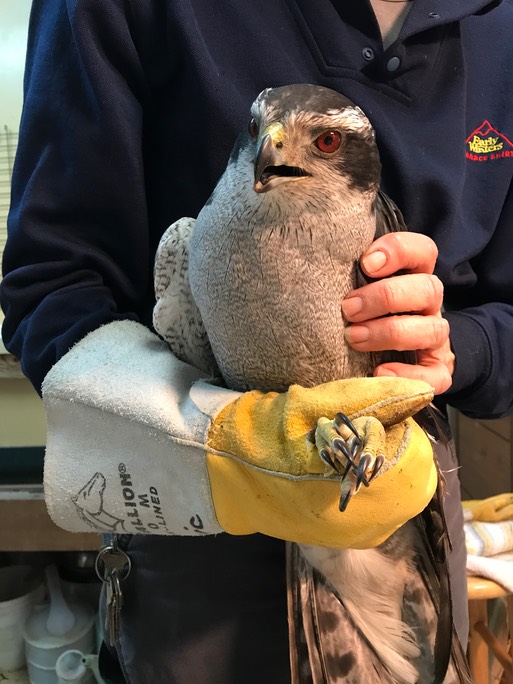 Unfortunately, an exam and radiograph found the hawk had been shot, the fifth gunshot bird admitted this year. There are multiple fractures in the left wingtip and most of the primary feathers in the left wing are broken. We are hopeful he will be releasable, but he will have to molt the broken feathers and grow new ones before we will know for sure. 
Goshawks are the largest of three members of the Accipiter family native to the Pacific Northwest. Like all adult accipiters, he has a red eye. His white eyebrow identifies him as a Goshawk.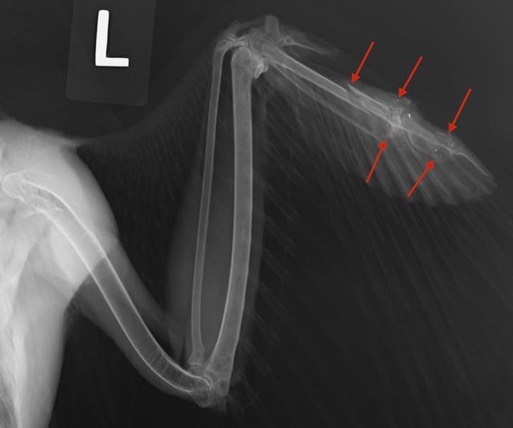 Winter Birds
We ended the week by participating in the 6th annual Winter Birds event at McNary National Wildlife Refuge. After providing two programs in the education room we released five Western Screech Owls. It was the perfect ending to a beautiful sunny winter day! Of course I forgot to take any pictures, but Tammy Wolf provided the photos below of two happy attendees.